One of the most interesting running threads through this week's episode were the disagreements on jazz trivia between Antoine Batiste and the rabid Japanese jazz fan who bought him a new trombone. Their last disagreement was over whether a certain trombonist in a photo of Louis Amrstrong playing a slide trumpet is Kid Ory or Honore Dutrey. Here's the photo: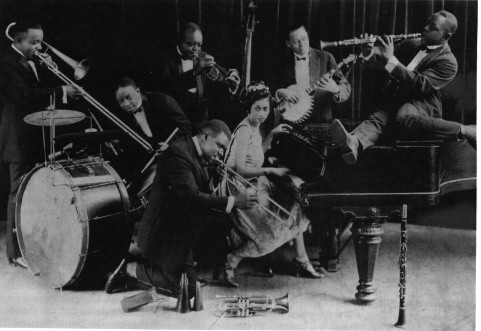 Batiste wins that one. That's Dutrey on the left. Hopefully the NPR jazz blog or some other outlet will adjudicate the rest of the arguments this week. The Japanese benefactor was put in touch with Batiste by the Tipitina's Foundation, a non-profit that seeks to preserve New Orleans' music and culture.
I never recognize the musicians on the show, but I do know my chefs, and I recognized all four of the drop-ins on sight. They are Eric Ripert, best known for his fish restaurant Le Bernardin in New York, molecular gastronomist Wiley Dufresne of WD-50, Top Chef head judge Tom Colicchio, and David Chang, of the Momofuku restaurants. They were sent to the restaurant by New Orleans chef John Besh.
Other food and beverage mentions included Mardi Gras King cake (I order mine from Gambino's) and the Sazerac cocktail. Abita Amber is a local beer in New Orleans.
The Krewe du Vieux is a real Mardi Gras krewe.
I noticed that the bailiff said "Oyez! Oyez! Oyez!" instead of "Hear ye! Hear ye! Hear ye!" to bring the court into session. There's a Wikipedia article on oyez. As a point of trivia, Louisiana's civil code is based on the Napoleonic Code, unlike every other state in the US.
Roy Blount is a New Orleans writer.
Real locations visited last night: Upperline Restaurant and Mother-in-Law Lounge.
President Bush's January 12, 2006 visit to New Orleans was mentioned, as were the Danziger Bridge shootings. The investigation into the shootings is still ongoing, thus far four New Orleans police officers have pleaded guilty to helping with the coverup.
Update: A Blog Supreme has their episode 5 post up.