I've been watching the battle between the Tea Party governor of Wisconson and the public employees' unions there with interest. First, let me say that it's completely obvious that Wisconsin governor Scott Walker is clearly trying to take an opportunity to permanently weaken his ideological enemies under the guise of addressing the state's budget shortfall.
Conservatives hate organized labor, and he's trying to stick it to organized labor. It's not much more complicated than that. The question is, do unions, public sector or otherwise, have something to contribute to the national debate? Are they worthy of our support?
In my view, they are. Here's a graph that's been going around this week. It's from a collection of data about income inequality in America published by Mother Jones. I saw the same graphs somewhere else last year, and they struck me then as well.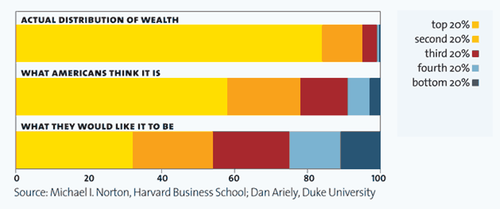 What the graph shows is that Americans, generally speaking, don't know how much wealth is concentrated in the hands of the richest people, and that they think even their perceived distribution is unfair to the people at the lower end of the spectrum.
It's a simple fact that labor unions are some of the only organized groups actually working to make America's distribution of wealth look more like the bottom bar and less like the top bar.
The least painful way to address income inequality in America is to restore economic growth and make sure that the people on the lower end of the wealth spectrum benefit more from that grown that the people at the higher end. For the past decade, we saw the opposite – rich people reaped nearly all the gains of economic growth and it was bad for America. These days, conservatives don't seem to even support policies that will lead to robust growth in the short or long term.
There are two mechanisms by which people from the middle class down can claim a larger share of the spoils of a growing economy. The first is for the government to enact policies that shift the wealth from rich to poor, and the second is for workers to negotiate with their employers for a larger piece of the pie.
Unions assist workers on both fronts so I support them, imperfect as they are.