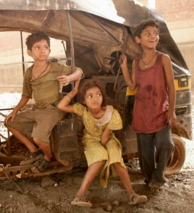 Two of the child stars of Slumdog Millionaire apparently still live in abject poverty in the slums of India. This is one of the saddest things I've read. It would be unjustifiable under any circumstances, but particularly in this case because the children play major parts in the movie and act incredibly well. To make a movie that in part serves to highlight the plight of children in India that at the same time exploits the children involved is not the kind of irony one can laugh about.
Here's a snippet of the living conditions of one of the actors:
Rubina and Azharuddin live a few hundreds yards from each other in a tangle of makeshift shacks alongside Mumbai's railway tracks at Bandra. Azharuddin is in fact worse off than he was during filming: his family's illegal hut was demolished by the local authorities and he now sleeps under a sheet of plastic tarpaulin with his father, who suffers from tuberculosis.
For purposes of comparison, here's a slide show of some of the gifts in the gift bag given to Academy Award presenters. Maybe they should have asked to be allowed to present at the Academy Awards in lieu of payment.