It's always interesting to observe when a piece of technology suddenly becomes obsolete. As of this morning, we can add the laptop dock to that list.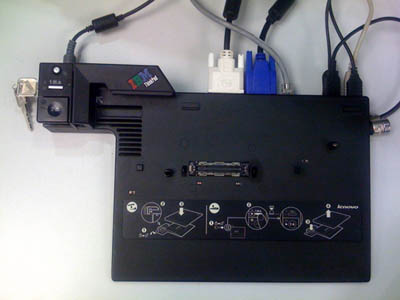 One of the pains of laptop ownership is dealing with cables. When I sit down in the morning, I connect my laptop to the power outlet, an external monitor, and my keyboard. Many laptop makers address this problem with a peripheral like the one above. All of your cables plug into a dock. To use them, you just slide your laptop onto the dock. Some have custom proprietary dock connectors, in other cases, the dock actually connects to all of the individual ports on the laptop.
Apple is taking a different approach. They've added all of the ports you'll normally use to their new generation of displays, and they use a Thunderbolt cable to handle the communication for all of those ports using a single cable. To connect, you just plug in the Thunderbolt cable and the power cable from the monitor. You can even daisy chain multiple monitors through a single Thunderbolt connection.
From what I've read, USB3 will provide similar capabilities in terms of letting users connect multiple, high-bandwidth peripherals through a single port. I would predict that we'd see lots of companies migrate toward offering monitors that act as full-featured docking stations for laptops, but I'm not so sure. Other companies don't seem to be as interested in making the monitor a hub for laptops as Apple is. One thing's for sure, conveniences like this help explain why people will pay $999 for an Apple monitor rather than $300 to $500 for a similar display from other companies.